This session offers three hands-on workshops differing in theme, technology and complexity: use a mix of high and low tech tools to design your own lamps; build your own sensory devices to detect the sound wavelengths generated by plants or caterpillars; and prototype historical designs.
We'll use these activities to reflect on the design process and how it relates to learning, making and tinkering. The creator of each workshop will share how they created it and we'll explore the activity design process together, from the first vague idea to the complete workshop.
Wondering what a MakerSpace is? This is our definition for the Ecsite conference. Don't hesitate to pop by during one of the drop-in slots!
Session speakers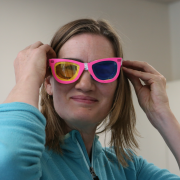 Bio-communication is one of the themes we at the Plant Science Center are working on with art educators. How can we build our own sensory devices to detect the interactions between plants and caterpillars? In this workshop called "Feel the Vibes" conference participants will create an electronic circuit with a microprocessor which can measure resistance, and generates a corresponding sound. The device can be used as a body extension to explore the world through vibrations and electrical resistance.