Storytelling is a fundamental aspect of human nature. Stories bring objects to life, stimulate curiosity, and help make sense of other cultures. Traditional storytelling entails one storyteller and a passive audience. How can we share stories in the exhibition context, in ways that engage visitors? How do we use stories to create active museum experiences? How do we design stories to engage visitors at a deeper level or even put them in someone else's shoes? How do we use the exhibition setting and visitors' movements in it as part of an interactive story? Can stories adapt to people's choices or actions?
Storytelling is both our topic and our format: all speakers together will tell a short and compelling narrative, "storifying" how they design, deliver and evaluate stories. Attendees will then share their own narratives, collectively mapping tools to build and deliver story experiences involving participation and interactions. Convenors/speakers and attendees will work together towards the "happily ever after" of storytelling in exhibitions.
Session speakers
Many exhibitions tell stories, though in different ways. People seem to like stories, but we do not know, what happens in storytelling exhibitions. To find out more about this, DASA started a research project. Its main idea is to design an exhibition based on storytelling and to evaluate visitors' experiences. The exhibition will be opened in October 2019. I would like to discuss the design concept and the evaluation methodology, which tries to combine quantitative and qualitative approaches.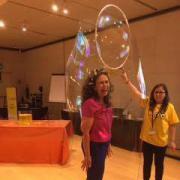 Wandering LTD was awarded as UNESCO Best Mobile Learning Practice & Mofet Teachers for Teaches Institute in Israel.

Download presentation
(5.03 MB)
Creating scientific stories on the Wandering platform is a challenge for curators to plan and visitors to read and enjoy, I will present: The story of scientific tools in the Baroque besides the story of an ecosystem around the Acacia raddiana in Israel . LiLo is a Location Interactive learning Object - STATION on the platform. It consists of several interactive components: open mission, collecting scientific data and writing an assumption. Modularity is the advantage of the platform.