Sorry, this session has been cancelled.
Storytelling is a powerful tool. How are today's curators and designers taking advantage of it in exhibitions? A story can help make collections relevant, but a story told in the medium of space can do more. We can tell a story by staging space and flow. And we can leave room for visitors to bring their own associations, find other connections and make their own meanings alongside the exhibition's messages.
In this session we will present a survey of recent approaches to exhibition narrative. We will combine the latest thinking from researchers and creative practitioners with case studies, from more formal permanent galleries to experimental temporary exhibitions - including 'Collider', where story and staging were the key to unlocking the work of CERN's Large Hadron Collider.
Session speakers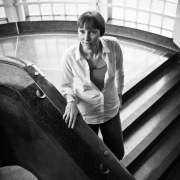 Exhibition Project Leader and PhD Researcher
A practical review of recent storytelling research: The shifts from a museum-led story to a shared space with room for new voices and new connections are all part of a wider change in social theories. In this session I will ask what the key voices of the past decade - from design education, architecture, exhibition designers and narrative theorists - have to say that can help us, down on the ground in a project team, create spaces that are open-ended but full of museological meaning?
Musée international de la Croix-Rouge et du Croissant-Rouge
An example of architecture's role in creating strong immersive environment: To design the 3 thematic spaces of its permanent exhibition The Humanitarian Adventure, the International Red Cross and Red Crescent Museum appointed 3 architects coming from different cultural backgrounds: Gringo Cardia (Brazil), Diébédo Francis Kéré (Burkina Faso) and Shigeru Ban (Japan). The aim was to illustrate the international dimension of the institution whilst creating for each space, a narrative environment radically singular and in resonance with the content.
Directrice des Editions et Transmédia - Digital director
The role of media in creating narrative environment: In narrative environments the public are invited to meander, to thread their own meaning between the different displays and exhibits of an exhibition. Where architecture and exhibition design inscribe the story in place, media (audio, film and interaction) often contribute a timeframe for storytelling. In this session I propose to show examples of how digital media has contributed to create narrative environment.