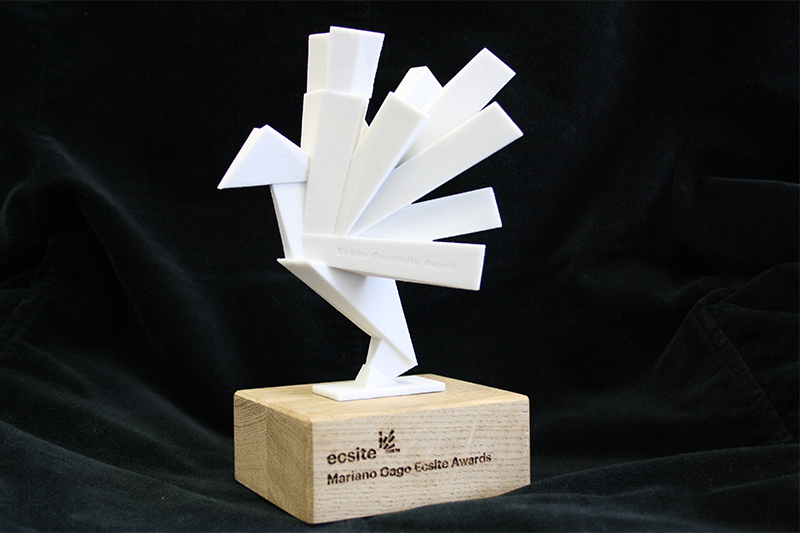 Encouraging participation, fostering curiosity, engaging minds, having fun.
Created in 2015, the Mariano Gago Ecsite Awards encourage creative and impactful work within the informal science education sector.
Open to all Ecsite members, they provide a prestigious incentive and reward, and contribute to the development of excellence in science engagement.
The awards are named after José Mariano Gago (1948 - 2015), a key figure of European science engagement. He was a founder of the Portuguese Ciência Viva network of science centres and an active contributor to Ecsite activities over the years. "In a few decades Mariano Gago was able to build a modern scientific community deeply rooted in Portuguese society, implementing his vision that science is source of both technical and human progress. Mariano Gago was also the founder of LIP," explained Mário Pimenta President of the LIP laboratory, generous contributor to the Mariano Gago Ecsite Awards.
Past awards
Browse through past editions: categories, winners, jury members...
Submissions are now closed. The winners will be announced at the 2022 Ecsite Conference, taking place in Heilbronn, Germany on 2-4 June.
Beacon of the Year
The Beacon of the Year Award celebrates inspirational individuals who have been contributing to our field and to the Ecsite network. The Award recognises innovative visionaries who are empowering and motivating their peers to reach a common goal: emboldening citizens to engage with science.
Evaluation criteria
Your candidate is…
a key figure in mobilising, guiding and empowering others
inspirational
a strategic and innovative visionary
adaptable and has outstanding problem solving skills
someone who contributes significantly to the Ecsite network and the science engagement field
Responsible and Responsive
The Responsible and Responsive Award has been specifically created for current edition, in order to reflect the response of Ecsite member organisations during the Covid-19 pandemic. The award aims to recognise institutions not only for their resilience, but for original, creative ideas that have had positive impact for communities at a time of crisis. Initiatives that have created methodologies that can be replicated in other organisations and which have demonstrated support and care in such a challenging period will be positively received.
Evaluation criteria
Creative: respond in innovative ways to difficult situations
Bold: thinking big beyond the limitations of the moment
Shareable: provide lessons others can learn from beyond the confines of Covid
Caring: seeking to support those most affected by the pandemic