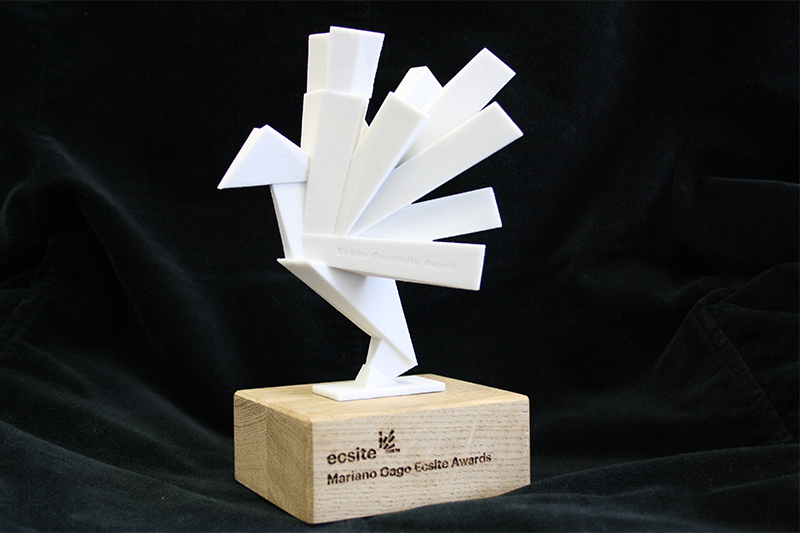 Encouraging participation, fostering curiosity, engaging minds, having fun.
Created in 2015, the Mariano Gago Ecsite Awards encourage creative and impactful work within the informal science education sector.
Open to all Ecsite members, they provide a prestigious incentive and reward, and contribute to the development of excellence in science engagement.
The awards are named after José Mariano Gago (1948 - 2015), a key figure of European science engagement. He was a founder of the Portuguese Ciência Viva network of science centres and an active contributor to Ecsite activities over the years. "In a few decades Mariano Gago was able to build a modern scientific community deeply rooted in Portuguese society, implementing his vision that science is source of both technical and human progress. Mariano Gago was also the founder of LIP," explained Mário Pimenta President of the LIP laboratory, generous contributor to the Mariano Gago Ecsite Awards.
Past awards
Browse through past editions: categories, winners, jury members...
The winners were announced on 29 October at the Ecsite Directors Forum held online by Technopolis, the Flemish Science Centre.
Beacon of the Year
The Beacon of the Year Award celebrates inspirational individuals who have been contributing to our field and to the Ecsite network. The Award recognises innovative visionaries who are empowering and motivating their peers to reach a common goal: emboldening citizens to engage with science.
Maya Halevy (Director at The Bloomfield Science Museum Jerusalem) won the Beacon of the Year Award for personal embodiment of and commitment to our network's values. She has initiated strategic programmes with the Jerusalem Municipality and with the Ministry of Education to develop infrastructure for science education as well as having been involved with a national initiative that works closely with the Ministry of Education, that seeks to put Israel among the top fifteen countries in the world for STEM education.
Sustainable Success
The Sustainable Success Award celebrates long-lasting impact: projects that embody the values of science engagement, that are visionary and socially relevant. For this Award, organisations put their own applications in or be prompted to do so by a peer who thinks their project deserves recognition.