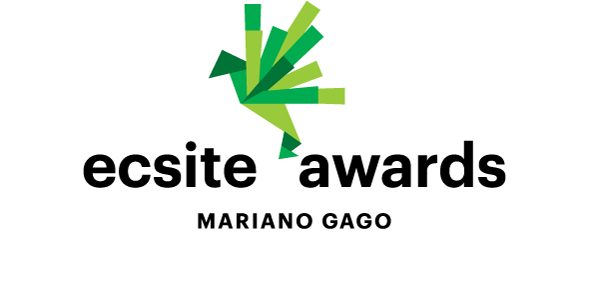 Encouraging participation, fostering curiosity, engaging minds, having fun.
Created in 2015, the Mariano Gago Ecsite Awards encourage creative and impactful work within the informal science education sector.
Open to all Ecsite members, they provide a prestigious incentive and reward, and contribute to the development of excellence in science engagement.
2018 edition
Winners were announced at the Opening event of the 2018 Ecsite Annual Conference (Geneva, Switzerland): the Tycho Brahe Planetarium (Copenhagen, Denmark) won in the 'Sustainable Success' category and Exploratório – Ciência Viva Science Centre of Coimbra (Portugal) won in the 'Smart and Simple' category.
Categories
The Smart and Simple Award celebrates simple, innovative and creative solutions in science engagement. It recognises the power of smart ideas that prompt a "I wish I had thought of that one!" reaction from other professionals.
The Sustainable Success Award celebrates long-lasting impact: projects that embody the values of science engagement, that are visionary and socially relevant.
Prize
One senior manager from each winning organisation is invited to the 2018 Ecsite Directors Forum (14-16 November 2018, Barcelona, Spain) where they will share their experience in a workshop they will run for their peers.
Moreover, the winners will see their projects showcased on the Ecsite website and in Ecsite's Spokes magazine.
Find all details about the prize in this document.
More about the Awards
The awards are named after José Mariano Gago (1948 - 2015), a key figure of European science engagement. He was a founder of the Portuguese Ciência Viva network of science centres and an active contributor to Ecsite activities over the years. "In a few decades Mariano Gago was able to build a modern scientific community deeply rooted in Portuguese society, implementing his vision that science is source of both technical and human progress. Mariano Gago was also the founder of LIP," explained Mário Pimenta President of the LIP laboratory, generous contributor to the Mariano Gago Ecsite Awards.
Need a visually attractive introduction to the Awards? This brochure is for you.
Past awards
Browse through past editions: categories, winners, jury members...