Information communication technology (ICT) has the potential to integrate activities across schools, science centers, and professional companies. How do students use iPads and iPods to document their activities in the science centre? How do they save and share these experiences? How do companies get access to students' experiences in museums and how do they exchange this information?
We will present knowledge from:
– Museum staff using ICT as a tool for students and teachers to use knowledge acquired in their exhibitions beyond the museum setting; – Research findings following students' use of iPods, iPads, and SciWork – a shared platform for collecting and connecting students' experiences in schools and museums; – Experience from EDUTECH – a platform in which representatives from schools and science centers can interact with professional companies that aim to improve school activities by constantly offering better goods and services.
The session promises a lively discussion on how to bridge what is learned in schools and science centers, and how this is communicated to relevant companies who can provide additional and tailored ICT resources.
Session speakers
NATURAL HISTORY MUSEUM OF CRETE-UNIVERSITY OF CRETE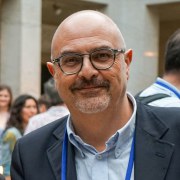 Director of the Science Centre