Museums and science centres have well-established business models and forms of delivery – and whilst these have been successful, we must remain alert to changes within the societies in which we operate and which we intend to serve. As we look to the future, how do we ensure that we deliver relevant experiences and programmes that resonate with audiences? How do we ensure that we understand our future audiences rather than meet the expectations of our past audiences? How do we fulfil our organisations' missions and science engagement objectives? And, importantly, how do we remain financially resilient?
Speakers will provide examples from their own organisations to map possible ways towards resilient organisations for the future, including new business models with respect to science engagement, public programming and other commercial models.
Session speakers
Head of Exhibitions, Learning and Outreach
What happens when you build a theatre in a natural history museum, create an adventurous programme of free and charged-for events around an art installation or open up your building to early morning yoga sessions? What are the positive financial and perceptual benefits of such activities and how do they contribute to the museum's mission and purpose?
Head of Cultural and Commercial Partnerships
In October 2018 the Science Museum has opened its doors to a major new initiative to tackle the UK's STEM shortage. This session investigates The Academy; a result from our involvement in Enterprising Science, a five-year partnership between BP, the Science Museum Group, King's College London and University College London. Using the concept of science capital, to understand how young people from all backgrounds engage with science and explore ways to increase their engagement. The speaker will highlight how the Science Museum Group is utilising its informal learning expertise nationally and internationally to achieve its mission of inspiring the creative thinkers and problem-solvers of the future. Helping build a "STEM-literate" society that celebrates science, technology and engineering is a vital part of the group's mission moving forward. Using the example of the Science Academy this contribution will highlight how thinking creatively about an institution's core activity can also be the foundation for building a new business model.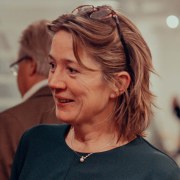 head of exhibitions and collections
With Nemo's ambition to expand its target groups to more adult audiences, we aim to be even more relevant to society, make people think and reflect and address topics like energy transition and give different perspectives of technological innovation. But how and where do we do this? The museum will, for a period of five years, rent an extra temporary space across the water to experiment and prototype with new programs and exhibitions to attract new audiences and most importantly, learn during the process and expand our expertise. NEMO will share their first experiences, ideas and struggles. How do we really lean from experimenting and how to make sure that we indeed push our boundaries, and be bold and creative?