Spokes used to be a quarterly paper publication, this is a digital repository of articles published in the Winter 2013 issue.
From the Ecsite office
Interested in the whole issue?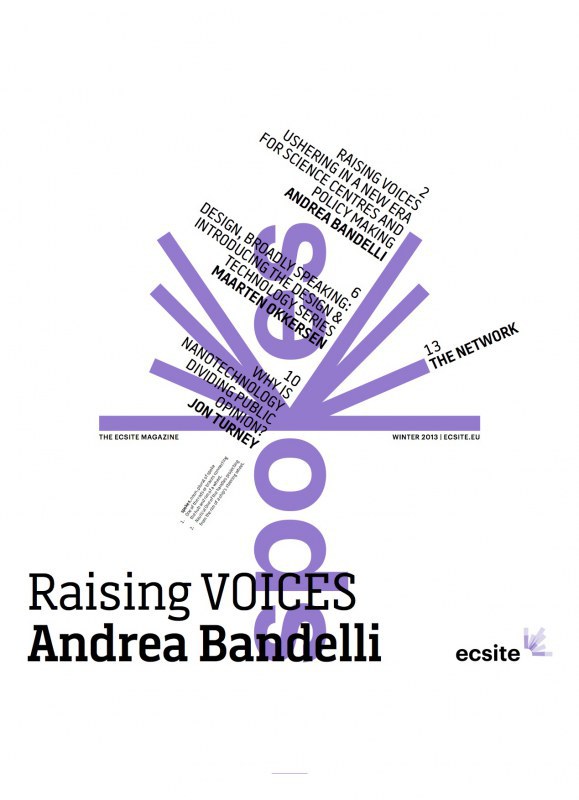 Ecsite thanks the writers who have generously contributed to this issue of Spokes. Don't hesitate to contact communications@ecsite.eu if you'd like to submit an idea for an article.
Spokes is the magazine of Ecsite, the European network of science centres and museums. It is put together by the Spokes Editorial Committee:
Maarten Okkersen, Head of Communication and Marketing, Museon, The Hague, Netherlands – Chairperson
Emma Wadland, Communications Manager, Ecsite, Brussels, Belgium – Editor
Nathalie Caplet, International relations, Cap Sciences, Bordeaux, France
Mikko Myllykoski, Experience Director, Heureka, Vantaa, Finland
Olivier Retout, Consultant, Brussels, Belgium
 
Responsible editor: Catherine Franche, Executive Director for Association européenne des expositions scientifiques, techniques et industrielles, aisbl
Frequency: quarterly between spring 2013 and spring 2015, then monthly - issue 2, December 2013
Copyright: reproduction in whole or in part of any article in this magazine is prohibited without permission from Ecsite