Commitment: Climate & biodiversity crisis
Meet the artist Wolfgang Buttress and his scientific collaborator Dr Martin Bencsik as they talk with Fiona Philpott, Director of Exhibitions (National Museums Liverpool), about the power of harmonising art and science to connect audiences with nature and encourage learning through experience and interaction.
Wolfgang and Martin will discuss their previous collaborations on iconic multisensory public artworks, which use live data taken from bees in their hives and nests to connect us with the natural world. We will also get an insight into their groundbreaking exhibition, Bees: A story of survival.
The session will look at how we can reimagine the museum exhibition by placing artistic practice at the core of storytelling, how we can bring nature into a gallery space and how wonderment can be a gateway to increased knowledge and engagement.
We'll explore how we can foster meaningful collaborations to explore the boundaries between art and science and enhance the practice of artists, academics and exhibition producers.
Session speakers
Nottingham
United Kingdom
Wolfgang Buttress is an award-winning artist and sculptor. He is known internationally for creating iconic multisensory public artworks which harmonise art and science to connect us with nature. His work has included 'The Hive', located at the Royal Botanic Gardens, Kew, and 'BEAM' at Glastonbury Festival. Wolfgang will discuss his previous work with his scientific collaborator Dr Martin Bencsick and their involvement in the forthcoming exhibition Bees: A story of survival, to be shown at World Museum (Liverpool UK) in 2023.
Nottingham Trent University
West Bridgford
United Kingdom
Dr Martin Bencsik is a physicist from Nottingham Trent University, who undertakes cutting-edge research to better understand communication within honey bee colonies. Using accelerometers (devices sensitive to tiny vibrations) embedded in the beehive he is able to study the patterns of sounds that the insects make, and thereby to monitor the health and behaviour of the colony. Martin will discuss his methods of capturing live data from bee colonies and his collaborations with the artist Wolfgang Buttress on multisensory works of art and in particular on the current development of the immersive exhibition Bees: A story of survival to be shown at World Museum (Liverpool UK) in 2023.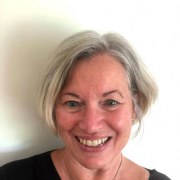 National Museums Liverpool
Fiona Philpott is Director of Exhibitions for National Museums Liverpool (NML) and oversees the development and delivery of a programme of exhibitions across seven world class museums and galleries. She has produced major art, science and historical shows at National Museums Liverpool and was a key figure in bringing the blockbuster exhibition China's First Emperor and the Terracotta Warriors to World Museum in 2018. Fiona will talk from the perspective of an exhibition producer on the benefits of collaborating with artists and scientists in order to deliver more innovative and engaging shows.