The European citizen science platform is now live
We are pleased to announce- the platform for sharing knowledge, tools, training and resources for citizen science. Our project consortium of 14 partners and 9 third parties from across 14 European member states, of which Ecsite is a member, have been working together to build this reference point for citizen science participants, practitioners, researchers, policymakers and society across Europe.
We hope that this online sharing and learning space will transform the way citizen science projects are conceived and developed - encouraging and supporting citizen science initiatives, bringing the community together, and jointly advancing the role and recognition of citizen science in the European context.
Our mission is to become the central reference point for anyone setting up or running a citizen science project - such as practitioners, researchers, educators, communities and citizens, anyone supporting the ecosystem of citizen science projects - such as policymakers and funding bodies, and anyone interested in the outcomes and impact of citizen science - such as decision-makers, the press, and society as a whole. 
It doesn't matter if you have years of experience or are completely new to citizen science.
Anyone interested in citizen science can:
Search for citizen science projects by title or keywords, or browse by country, activity status, or topic of research - such as biology, education, or physics. 
Browse and search for a wide range of resources that are useful in various stages of planning and running citizen science projects.
Build your own library of resources in your personal area on the platform by selecting your favourites
Keep track of interesting projects by following them. 
Sign up to become a member of the community, to rate resources comment on their use in practice.
Share more information about yourself in your profile to help others in the community to find you and connect with you to compare notes, or start new collaborations.
Share your own citizen science projects, get in touch with other project managers, and collaborate on new initiatives
Share your own resources with the community – such as tools, guidelines, policy briefs, training resources, publications, and more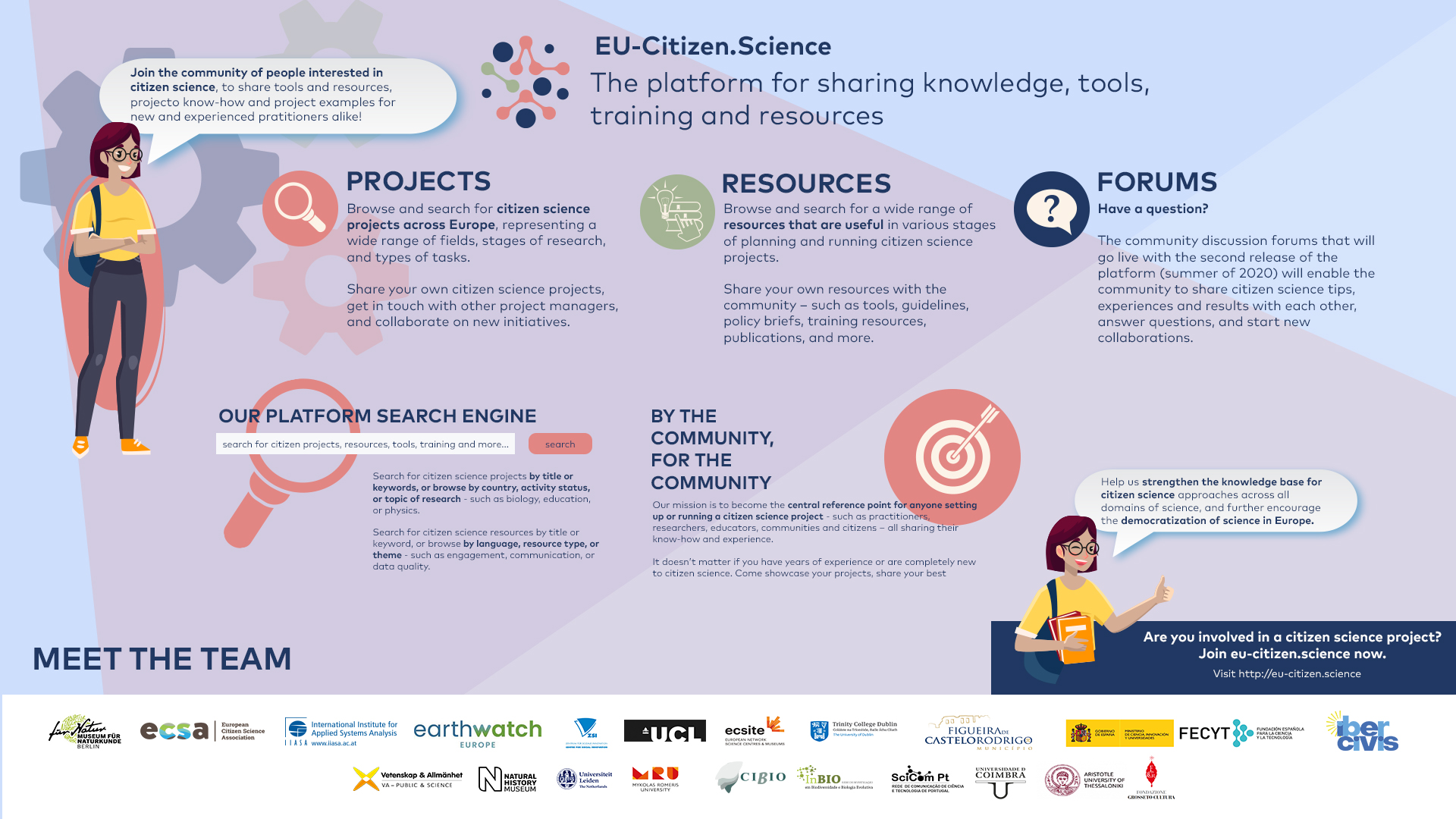 In our next release over the summer we will be adding features such as a community discussion forum and training resources.  Do let us know what else you would like to see on the platform!
By the community, for the community
The success of the platform relies on your contribution - please join us as a member of this community, share your own best practice citizen science resources, and profile the citizen science projects that you have been involved with - past and present. 
We welcome your thoughts and feedback - please don't hesitate to contact us here, or reach out to the platform consortium directly at eucitsci@mfn.berlin.
Citizen science in times of the COVID-19 virus
We are all facing the challenges of the current complex situation as a result of the COVID-19 pandemic. We hope that you and your loved ones are healthy and safe at this time. While many of us are under coronavirus lockdown, there is more than ever a strong need for high quality online resources and activities that can be used or done from home. 
In EU-Citizen.Science we have flagged for you citizen science projects that you can join while staying at home, that are particularly useful to be used at home, with your family members, or within you virtual training or community activities. We count on your help to make this list grow in the upcoming days and weeks. On the EU-Citizen.Science platform you can also find a blogpost providing a list of resources related to the current COVID19 pandemic, as well as two projects specifically on helping researchers studying the COVID-19 spread.